Bertolotto News
Chasing the Industrious Fleas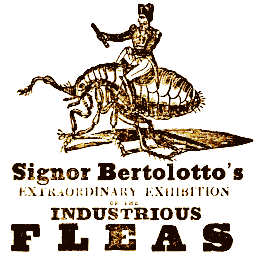 One of the most famous flea circus performances was L. Bertolotto, who's Extraordinary Exhibition of the Industrious Fleas performed in London, New York and Canada in Victorian times. It is suggested that he was instrumental in shifting the focus of attention from the builder of the tiny chariots and props to the performer.
His performances are documented in the form of flyers and also referenced by many sources. The acts are themed to reflect the political events of the time and reference Napoleon and the Marquis of W. and MPs.
Bertolotto performed in the early 1800s.
Of course Bertolotto was not the only famous flea trainer, see other flea history for the best of the rest.
A London Map of Bertolotto's locations

Author
Bertolotto published several versions of a book entitled "The History of the Flea with Notes and Observations" the second edition published approx 1834 is available in the British Library and the 5th edition was published in New York in 1876. There is a version printed in French available from Bibliothèque nationale de France which is likely to be the first version and references to a version published in St Petersburg in 1838 but this cannot be confirmed.
Performances in the UK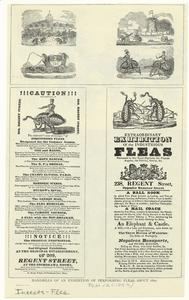 There a series of flyers available that report that the show was at 209 Regent Street a.k.a The Cosmorama Rooms and 238 Regent Street, London. Some of these fliers can be seen in Jays Journal of Anomalies7 and others are located in various archives around the Uk. The John Johnson Collection of Printed Ephemera has a good selection of these.
Somerset Gallery also appears in a flier for "The Industrious Fleas" and the Morning Chronicle but this does not mention Bertolotto by name so could be a rival performer. It is notable that this flier uses different graphics to the others, a flea in the style of a miniature elephant.
Other performances of Industrious fleas are reported to be in Bognor, Bratton in Wiltshireand Birmingham in 1837, Plymouth, 100 Picadilly, Sloane Street Gallery and Cambridge.
Performances overseas
Before his London debut, Bertolotto was in Paris in 1833 where he caused a stir with a rival "Maestro" as reported in the Times Newspaper25.
June 1859 reports Professor Frick10 a building at 39 Union Square, a circus of a different sort was presented - Signor Bertolotto's exhibition of educated fleas. Bertolotto's flea circus featured diminutive "performers" dancing a polka, drawing miniature carriages and street cars, and impersonating Don Quixote and Sancho Panza
Dr J.M.S. Careless reports in 1984 of the Empire Club speeches of 1834 in Toronto:
"Theatre is popular also, if of doubtful quality; it is usually presented by travelling actors to well-lubricated, rowdy audiences in hotel ballrooms, at City Hall, or even in tents. Sometimes the stage offers Shakespeare; but also, as at the Steamboat Hotel in October, it may be "The Extraordinary Exhibition of the Industrious Fleas," or, in a tent behind the jail in July, a mighty presentation of the Battles of Waterloo and New Orleans - with extra charge to see the boa constrictor"
Visitors
Bertolotto's flyers claim that he had many Royal visitors and was patronised by the Princess Augusta and the Lord Mayor but these have not been corroborated in other references.
Charles Dickens referred to the "Industrious Fleas" exhibition in Regent Street in his 1836 Sketches of Boz, "Full Report Of The First Meeting Of The Mudfog Association For The Advancement Of Everything". This article had been previously mentioned in the Morning Chronicle. Dickens refers to the fleas again in "Pictures from Italy" - Chapter 4 - Genoa and its Neighbours".
In December 1839, Aurthur and Odo visited the Industrious Fleas20 with their tutors. These two went on to become Lord Arthur John Edward Russell and Odo William Leopold Russell, 1st Baron Ampthill.
Brigham Young mentions a London Flea Circus in his diary which may have been Bertolotto.
Ralph Waldo Emerson also references the Industrious Fleas in his writings.
Henry Philip Mayhew mentions industrious fleas in his letter to the Morning Chronicle on 16th May 1850.
Kerim Khan visited the industrious fleas in the Strand (likely the Somerset Gallery exhibition) on his visit to London in the 1840s.
François Arago indicates that James Watt may have visited the show, perhaps whilst he was living in Heathfield near Soho in the early 1900s17. "Every year, during a short excursion to London or other towns nearer Birmingham, Watt examined in detail everything new that had appeared since his last visit. I do not except even the exhibition of the Industrious Fleas, or a puppet show; for the mighty engineer went to see these with all the eager delight of a school boy".
A writer by the name of Jaydee sent his rather damning review of the Industrious Fleas to W J Thoms' Notes and Queries in 1858 stating that "anybody with a little patience may get up such an exhibition in a few hours." and goes on to say "No doubt it requires patience and neatness of hand to fasten the fleas in their proper positions, and to fabricate the apparatus; but a Geneva watchmaker would smile at the notion of such work being really difficult". However in the next edition this is refuked by Erika who advised the reader to look at Household Words for a article on "Intellectual Fleas" that would explain the real skill involved.
Rivals and Fake Bertolottos?
As mentioned above Bertolotto was reported in Nov 1833 in the Times of suing a rival Italian "Maestro" in Paris who setup his show in the Palace de la Bourse. Due to the fame of Bertolotto to other performers attempted to cash in with similar sounding shows. There are footnotes on the fliers referring warning visitors, "N.B - L.B. has no connexion whatever with a Person who travels about the Country with a pretended Fac Simile of part of his late Exhibition." The show also had some disagreement with the Cosmorama rooms and moved from 209 Regent Street to 238 Regent Street but later returned to the origional establishment.

Caution to the Public!

SIGNOR BERTOLOTTO

Having REMOVED his celebrated Exhibition from 209 to 238 Regent Street, the Proprietors of a peep-half-penny street show, availing themselves of Signore Bertolotto's popularity, have establisted their Box of Fleas in his former exhibit room, with the intention of catching any person who, not being informed of the Removal may become and easy prey to the Imposition. It becomes Signor Bertolotto's duty to the Public as well as to his character, to expose the trick that the curious may not be made to pay a shilling for what has been shown to thousands for a half-penny about the Streets. To prevent this please to remark that Signor Bertolotto's Name is on all his bills, and that the Exhibition

Is Removed to 238,

Opposite Hanover Street

And Bertolotto's luck with copycat performers did not get any better when he performed in the USA as demonstrated by this clip13 from the New York Daily Tribune from Jan 1859.


One of his know rivals is
Animal Cruelty?
The early 19th century was full of cruel sports such as dog fights and rat pits18. In 1822 the Richard Martin's Act was an act to prevent the cruel and impropper treatment of cattle. It was one of the first pieces of animal rights legislation. Bertolotto was keen to point out that his show met all the requirements of the act.

Flea Training Workshop
According to the article in Household Words12
"He carried on his operations in a little room in Marylebone Street, London. I entered, and saw fleas here, fleas there, fleas everywhere; no less than sixty fleas imprisoned and sentenced to hard labour for life. All of them were luckily chained, or fastened in some way or other, so that escape and subsequent feasting upon visitors was impossible."
Printers
There are several different flyers for Bertolotto's show and luckily due to a law passed by William Pitt in July 1799 they had to have the name of the printer on the bottom. From Willian Todd's A directory of printers and others in allied trades London and vicinity 1800-1840, I have have tracked down the dates that these printers were at the addresses mention on the flyers. Crozier was the printer of the Bertolotto's book in London and John Axford the printer in New York.
Forenames
Surname
Address
Dates
Collis
Mathew
104 Bishopsgate Street Within
1836-1843
Crozier
37 Sliver Street, Golden Square
1835-1846
Edward and John
Thomas
6 Exeter St, Strand
1838-1841
George
Scarce
52 Tottenham Court Road
(1 Salisbury Place?)
1833?
John
Axford
29 Ann Street, New York, USA
?
E & J Thomas were also found in Philip A.H.Brown's "London Publishers and Printers c.1800-1870" but with a slightly earlier start date of 1834.
Genealogy
Archive and census records show that Louis Bertolotto lived in London and emigrated to Canada to live in the town of Port Hope the experts there have been researching in more details.
I am also interested to know if he is connected with Cardiff in Wales as there were lots of Bertolotto's born there in the 1800s and businesses were also setup there.
If you are researching other Bertolotto's then you may be able to find them at London Ancestor website.
Bertolotto Family Tree at Ancestry.com
Unanswered Questions
Are there fliers for the USA shows?
Who was the rival show next door? Perhaps Mr Kitchingman, Maestro from Paris or Giuseppe Pariss
Who was his father? A French Navy Captain?
Who was his first wife?
Where was his son "H" / Harry born?
Was there a second son "Louis" as well?
What happened to the other editions of his book?